Süddeutsche Zeitung
Bavarian Design for Skyscrapers in China
A Munich architect amongst Beijing's giant towers experiencing a new architectural feeling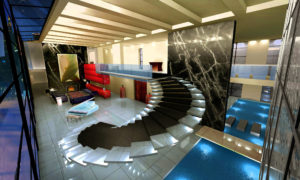 To claim a resemblance in character between the Bavarians and the Chinese may be carrying it a bit too far. Now, this story will be less about whether the Bavarian character has its roots in the Far East or not. And still one cannot shake the thought that a Chinese might be the better Bavarian or expressed in another way: he might be the more consequential of the two.
If you want to succeed in China you have to show equanimity says Georg-Maria Hagemeyer: come away from the illusion that an agenda or a project starts with A and ends at Z. Furthermore one should be stubborn and have stamina. "Business relations are like a slow growing plant in meager soil ," says the Munich architect. You can confidently believe Hagemeyer because he is successful in China.
Recently he won a competition that would arouse attention here, but in China the achievement is superseded by entire cities generated on the drawing board and shooting up in record time or developments on land wrested from the sea.
This is all about a type of Rockefeller Center in the middle of Beijing not far from the Square of Heavenly Peace: five towers, the highest 142 Meters, China's first Seven-Star-Hotel with 540 Suites. Hagemeyer prevailed with his design concept ,,Diamonds are forever " for the two 100 Meter high apartment towers and is now able to create 450 Luxury apartments. Integrated into the complex are two office towers with a floor space 140.000 square meters each, 180.000 square meters will be developed under ground: Private school , shopping mall, entertainment center. ( … )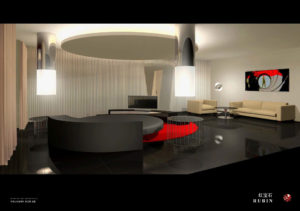 In this context Hagemeyer points out that the potential lies in ,,German efficiency". ,,The Chinese know what we have to offer: Top quality", emphasizes the architect. ( … ) He says this advisedly, because for him it is the manifestation of a typical characterist ic, one could also say a virtue. ,,The Chinese deal with big issues totally unbiased, almost playfully", he reports. If a foreigner would like to do business in the most populated country in the world he must internal ize this fact. This means especially one thing for Hagemeyer translated into the form language of architecture: be pictographic, work with connotat ions. ,,Concrete basis, American middle and a pagoda roof on top – is not what the demanding Chinese want. "To face the future they want to reinvent themselves on a high quality level."
"And to have fun. At least those who can afford it." Accord ing to Hagemeyer that is only about 0,12 Percent of the population, but out of a total 1,4 billion. So Hagemeyer came up with an idea and hit the nail on the head. As a theme for the design of the luxury apartments he implemented the James Bond classic ,,Diamonds are forever ".
The architect is designing a total of five types of luxury residences each one corresponding to a precious gem. The interior is designed to fit a ruby or a topaz. In an elaborate booklet Bond films like ,,Octopussy" are cited, symbolized through water worlds made out of fiber technology. ,,This may be Hollywood-culture indeed, but the upcoming Chinese population is very open for it", says Hagemeyer.
The suites are between 180 und 1.800 square meters, partly extending over two floors, some have a pool, almost all of them have a Karaoke-Room. ,,They should even be included in the smaller apartments. This is the room in which success is celebrated", says the 44 year old. Cost per square meter: 2000 Dollars. The complex will be completed by the start of the Olympic Games in 2008. Hagemeyer has no doubts that it will work out.
What can we learn from the Chinese? Hagemeyer has a likeness on hand to explain. ,,If I want to take off with a plane, it's not enough to accelerate only half or three quarters of the way." The Chinese give full throttle and also have the courage to make unusual decisions. For example the Transrapid / Maglev: ,,They just built it without hesitation", says Hagemeyer. In this respect the Bavarians now have a chance to be like the Chinese with their own Transrapid project.
Michael Ruhland